Mediterraneo.
Sea through the lands.
Empires, peoples, religions.
Loves, faults, passions.
A dense plot that changes color from Djerba to Beirut,
from Genoa to Piraeus, from Istambul to Barcelona.
A plot that has the faces of Ulysses and Aeneas,
of roman galleys and their fragrances.
A plot that tells of wars, peace, origins and influences.
A Sea made of explorers, merchants and heroes,
made of tastes, heritages and richness,
made of blue seas, white houses, salt air, winds, clear skies.
A Sea rich in feelings and able – more than any other – to make humans talk, to carry – with its currents – ideas and legends, stories and memories.
A story that traces the shapes of the "Mediterraneità".
maison pórpora is a label born in Italy to two complementary minds who grew up among architecture, art and fashion. We draw inspiration from archaic aesthetic languages and work on translating their anthologies of signs into the contemporary vision.
Our choice and strategies – at the stages of both development and production – aim to achieve long lasting project entirely designed and made in Italy.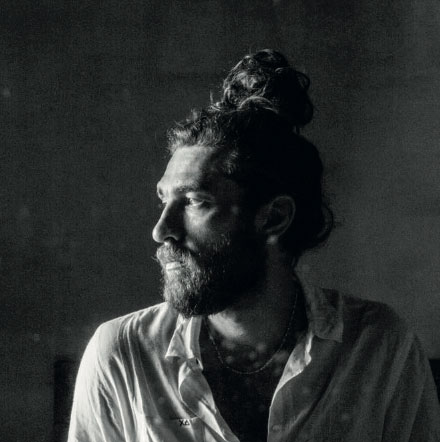 I am Alessandro.
I grew up among the sinuous shapes of Central Italy, hills covered in  rural hamlets and peacefully influenced by the Adriatic Sea.
I believe in the present and future, in slow and fast rhythms, in depth and surface, in filled and empty spaces.
I don't believe in problems, there is always a solution.
My name is Shakti.
I am an Architect.
I grew up drawing silently, loving human aesthetic and Mediterranean Sea warmth, trusting in rhythm and perspective view.
I admire freedom.